JUST WHEN YOU THOUGHT THE NIGHTMARE WAS OVER !!! THE ALL NEW 6 NIGHT SPECIAL EVENT "NIGHTMARE CHRISTMAS" FOR 2018. Now that Halloween is over Christmas is just around the corner, This 2018 Christmas Holidays has taken a Horrifying Twist at Nightmare Dungeon. Santa has converted the 114 year old Cabin In The Woods into His Creepy Cabin… A two story Cabin with Santa & his Evil Elves all throughout waiting on you and your friends! If you've been to Nightmare Dungeon in the past you won't recognize ANYTHING because the original tour of the Cabin has been changed to a complete different route. EVERYTHING has been changed into a horrific Christmas setting, Experience the most extravagant high tech LASER SHOWS all throughout the tour and be prepared for Santa and his Terrifying Elves to be coming at you full force from all directions! The lasers will be a sight to see as you try to find your own way though this unguided tour! Santa and his 40+ elves will be sure to send the Holiday Fear Down your spine and raise the hairs on your neck!! IT WONT BE A "SILENT NIGHT" here on these nights !!! What better way to spread your Christmas "FEAR" for the holidays !!! This event is NOT intended for kids 10 and under but it's the parents consent! THIS IS A SPECIAL 6 NIGHT EVENT ONLY SO DON'T MISS IT !!! The Cozy Bon Fire will be warm so bundle up and bring your friends. Opens December 14th – 15th – 16th & 21st – 22nd – 23rd at 6:00pm until 12:00am. SHARE SHARE SHARE AND SPREAD THE CHRISTMAS FEAR !!! "He Knows When You Are Sleeping"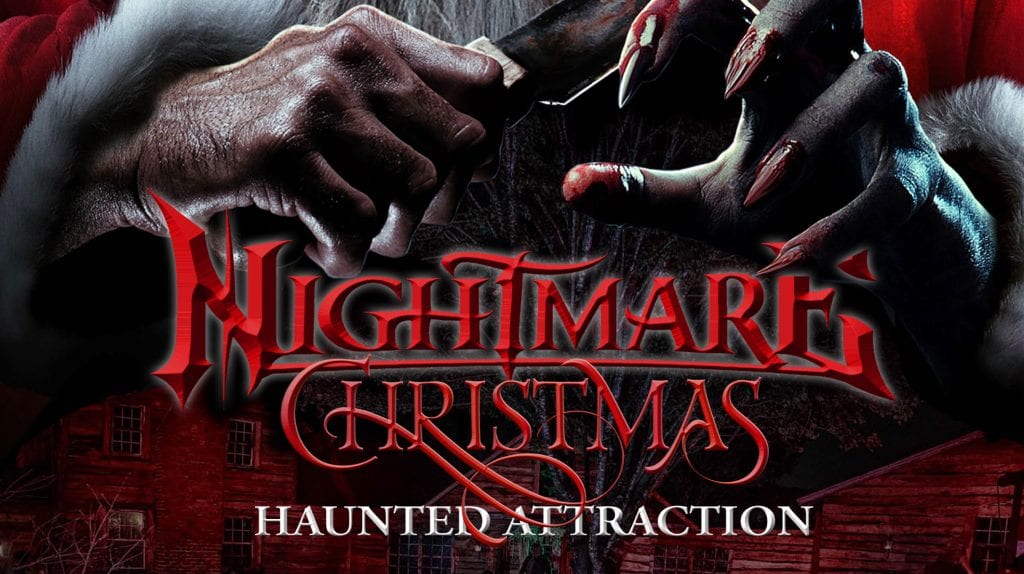 TICKETS ARE $25 PER ADULT AND $20 FOR 10 AND UNDER
BUY TICKETS AT THE DOOR
OPENS AT 6:00 pm CLOSES AT 12:00 am
DECEMBER 21st – 22nd – 23rd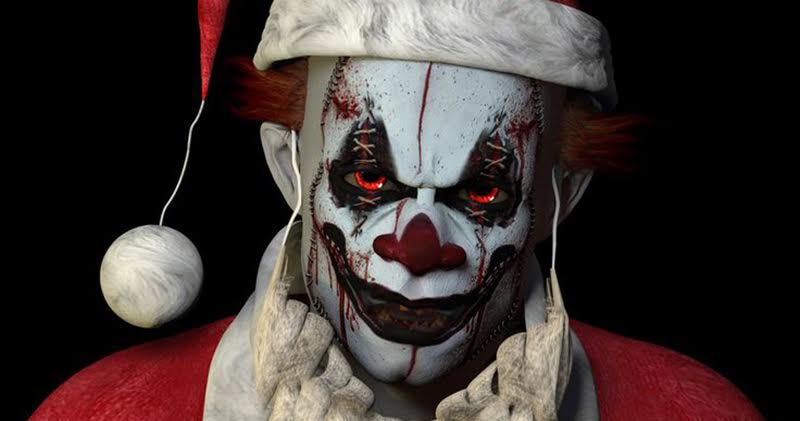 ALL OF BELOW ARE OTHER EVENTS THRU OUT THE YEAR
MAKE SURE YOU CLICK HOME AND CHECK OUT THE REST OF OUR SITE

LOCATED AT : 645 OLD ANDERSON RD GREENVILLE S.C. 29611
---
BE SURE TO WATCH THE VIDEO'S BELOW TO SEE THE ALL NEW 2019 ABANDONED CABIN'S NIGHTMARE VALENTINE !!!
---
THIS 2018 HALLOWEEN SEASON THE ABANDONED CABIN GETS REAL !!!!
OPENS SEPT, 14TH EVERY SINGLE NIGHT UNTIL NOV, 3RD

THAT'S RIGHT The Abandoned Cabin® has ANOTHER YEAR planned for you Starting Sept 14th thru Nov 3rd Every Single Night…EVEN IF ITS RAINING !!! We've got ya covered, It's gonna be one "HELL" of a night that you don't want to miss AND YOU GET TO GO THRU BACKWARDS THIS TIME that's right BACKWARDS, if you've been to the Abandoned Cabin before then you'll see a total difference in a backwards tour thru the cabi

n NOTHING WILL BE THE SAME AS LAST YEAR ! You'll be trapped inside with 40 Plus Actors and their all feeling some kind of way this year. you will meet them all face to face and their going to get as close as they want to in your face and who knows what else they have in mind !! Alot changed in the cabin this year and we don't go by the rules and you'll see what we mean, Some of you might not even be able to find your way out on this 2 Story Cabin In The Woods on these Twisted Nights. HORROR, TERROR, HAIR RAISING FEAR IS GOING TO WRECK YOUR NIGHT ON THESE NIGHTS HERE AT Nightmare Dungeon®, You can bet that !!! And Dead City Clowns will be all up in your face as well !!! No other Haunted Attraction in South Carolina Has the Dead City Clowns and they will give you the HELL you've been waiting on GUARANTEED !!! Come Meet Jason he would love to meet you as well !!! Picture Opportunity's may be available these nights as well with the Dead City Clowns ONLY AT NIGHTMARE DUNGEON HAUNTED ATTRACTION® !!! ALL THE Twisted Creeps & Freaks will be lurking the walls of The Abandoned Cabin®, Opens After Dark on Sept 14th thru Nov3rd At: 645 Old Anderson Rd Greenville S.C. 29611. TICKETS ARE SOLD AT THE DOOR! $30.00 per adult and $25.00 for 12 and under.
BE SURE TO COME MEET OUR NEWEST MEMBER THIS YEAR HIS NAME IS "ICKYZ"
HE"S ONE THAT YOU WANT TO MEET TRUST US !!!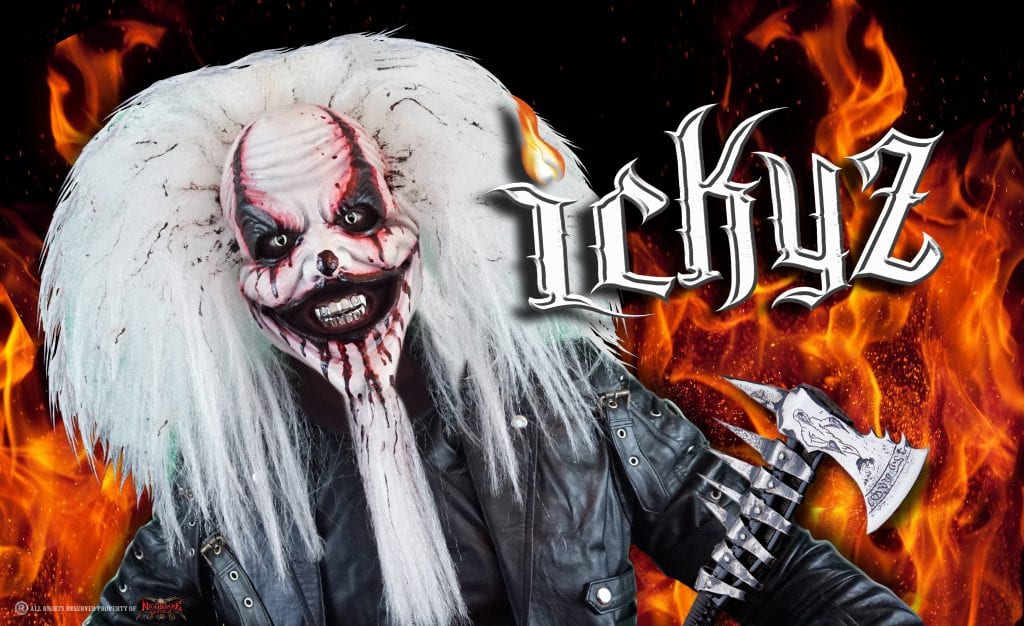 BELOW ARE UPCOMING EVENTS FOR NEXT YEAR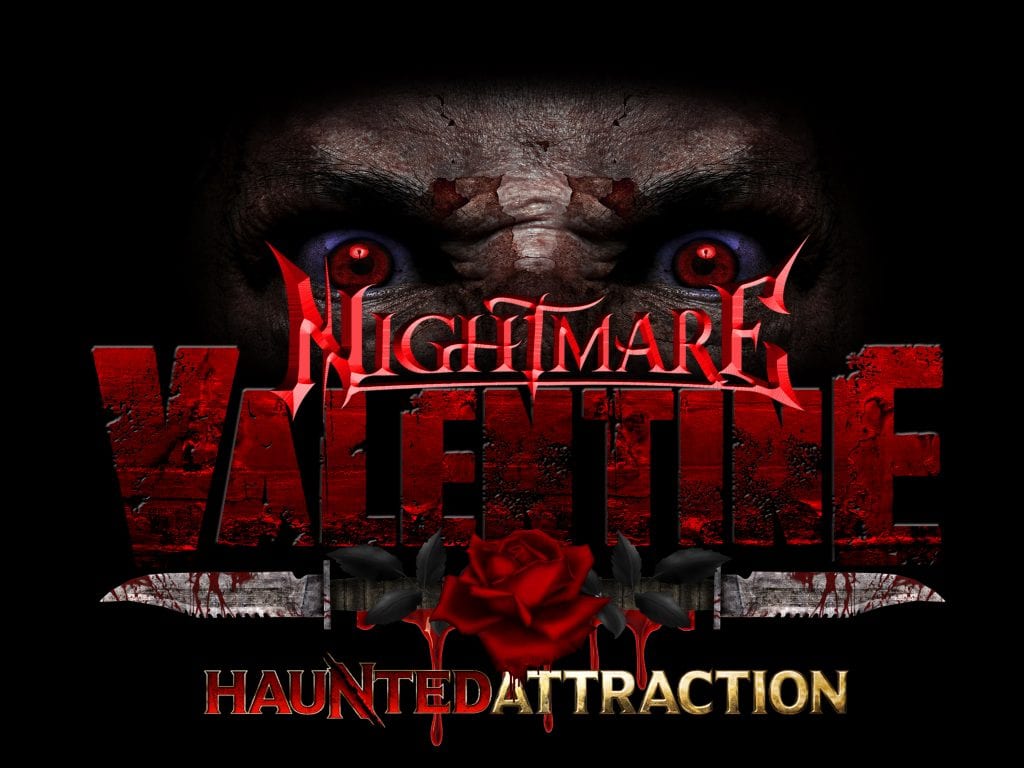 Are you looking for an alternate to celebrate the Valentine's Day Holiday? Look no further, Nightmare Dungeon Haunted House brings you our 2nd annual Nightmare Valentine's Haunted Attraction. Nightmare Valentine is spreading the love this Valentine's Day! Come visit our cozy cabin in the woods with your valentine…Tour through a 113 year old 2 Story Cabin in the woods with your Valentine Date or Friends, This old house is filled with terrifying actors, tight places, dark rooms, creepy sounds, and surprises in every corner. A haunted House themed for Valentine's Day? Sure, why not? OPEN FOR 4 NIGHTS, It beats the usual dinner and a chick flick, anyway, and scaring your date is usually a good way to get them excited ya know Soooo… Nightmare Valentine awaits for the victims who dare to enter the Twisted Halls behind these walls, Plus, it's a partially candlelit haunted house for that romantic ambiance! Nothing says "I love you" like a bloodcurdling scream that will send your date into your arms faster than you can say, "Don't worry honey, I'll protect you." Since they say Love is blind, we hope you aren't afraid of the dark, as the special event on Feb 17th is a BLACK OUT NIGHT. You will have to find your way through the massacre using only a small light that's barley worth even having!!! And as if that was not enough, there is NO SET PATH.
Enjoy the lovely scares between Dark and 12:00 a.m. at the Nightmare Valentine.
Sketch is waiting to see you for Nightmare Dungeon's Nightmare Valentines Event !!! He said bring your date or friends, or if you want to you can come by your self and Sketch might even take the tour with you, after all Sketch needs a Bloody Valentine date too !!! Come see what all the talk is about for Valentines on FEB, 14-15-16-17th 2019 The doors to the cabin opens at dark are you ready ? Sketch sure is !!!
https://www.facebook.com/likenightmaredungeon/videos/1864133243610897/
"PAY AT THE DOOR"

NO NEED TO PAY ONLINE TICKET SALES NEVER END

FOR THE VALENTINES EVENT ONLY THE
TICKETS ARE $25 PER ADULT AND $20 FOR 10 AND UNDER

NIGHTMARE VALENTINE'S 2 story large Rustic Cabin In The Woods THIS YEAR FOR 2019 ABANDONED CABIN HAUNTED ATTRACTION 3500 SQUARE FOOT Cabin And Attached Building At THE NIGHTMARE DUNGEON ®, And it includes the "Run Away Car, Toxic Waist Room(complete with Bio-Hazard area) "The Dungeons Revenge", and the new and improved "Claustrophobia Room" Terror Pit, is not your ordinary Pit, scream-filled haunted attraction. The interactive Halloween event creates an atmosphere of pure horror, making any Alfred Hitchcock movie seem tame by comparison. caves and rooms transformed into one of the most intense and terrifying haunted Attractions in South Carolina. Don't Fear the Darkness – Fear the Terror that lies within. Watch the Video Below to see the Cabin !!!
be sure to read the story at the bottom of this page also..
LOCATED AT
645 OLD ANDERSON RD GREENVILLE SC. Powdersville Area.

Nightmare Dungeon Haunted House in Powdersville SC, is the most terrifying haunted house in the Upstate. Nightmare Dungeon Haunted House is equated with being inside a live horror film. Each of the haunted attractions is filled with high tech special effects, realistic sets, and professional actors. Nightmare Dungeon Haunted House will bring your nightmares and fears to life. avoid the infected at all cost in this haunted house. The N3QX 1 Virus Strain has hit the Powdersville area particularly hard, severe itching, bloody orifices, vomiting, irritability, are the initial symptoms. Experience the Zombie Apocalypse at Outbreak! Grotesque and inhumane practices done on patients will repulse anyone who enters the Madhouse. The Nightmare Dungeon, once a thriving death house for the mentally impaired patient, became a torture and experiment mecca for patients who were placed here. Submerged in ice water, restrained in padded cells for weeks, shock therapy under water, or Lobotomy were common options or tortures to live people who entered, some never to see the light of day ever again. Experience the sadistic, gruesome, disgusting, repulsive way the patients were treated once they were sent here. Closed down after a government investigation, the nightmare dungeon contains the tortured spirits of many patients and surgeons who have been enslaved in the purgatory of the halls, on a mission to escape their terror, or stop it. Journey the halls of the dungeono and feel the fear and experience the violent, cruel, and brutal treatment they endured. Nightmares like no other. Disgusted enough, you are an experiment in Redneck Rampage. Redneck Rampage is described as beyond the bizarre. Step into the home of a twisted and sadistic grave robbing family. You have become the experiment.
Nightmare Dungeon Haunted House
645 Old Anderson Rd
Greenville,
SC
29611
US
Phone: 864-905-2289
CALL 864-905-2289 IF YOU HAVE ANY QUESTIONS