MAKE SURE YOU CLICK HOME AND CHECK OUT THE REST OF OUR SITE 

The dungeon opens Sept,18th every single night thru Halloween 2015
 

"PAY AT THE DOOR"
NO NEED TO PAY ONLINE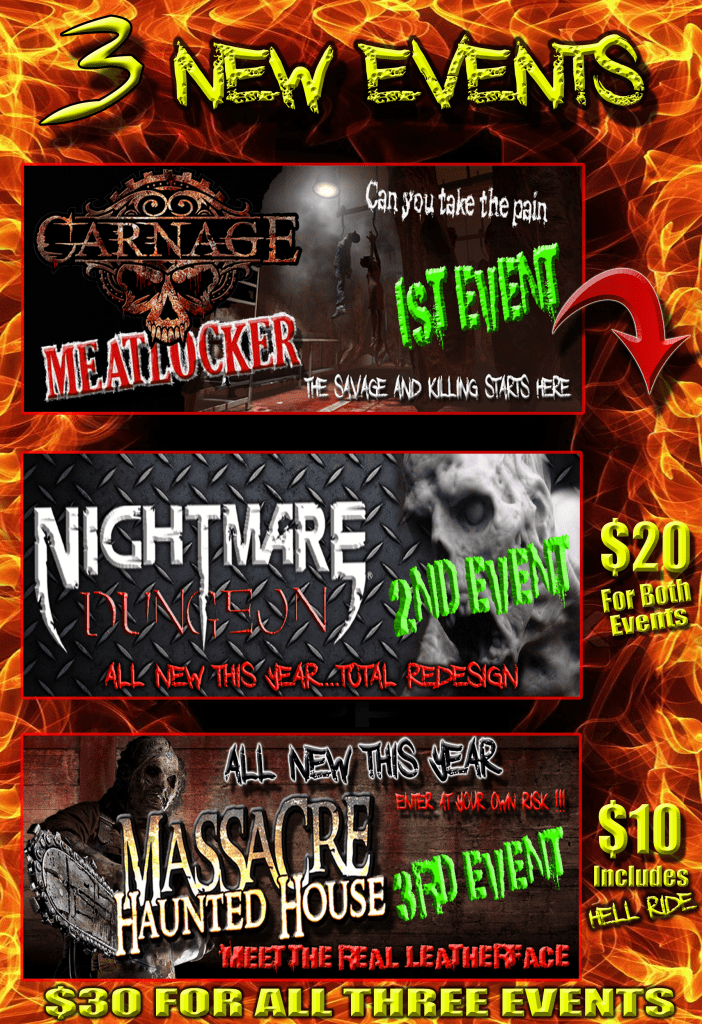 TICKETS START AT $20 PER ADULT AND $15 FOR 12 AND UNDER

This years new attraction, 3 large HAUNTED EVENTS THIS YEAR FOR 2015 THE CHAINSAW MASSACRE HAUNTED ATTRACTION 4000 SQUARE FOOT WITH A RIDE A TO THE EVENT AND THE NIGHMARE DUNGEON, And it includes the "Run Away Car, Toxic Waist Room(complete with Bio-Hazard area) "The Dungeons Revenge", and the new and improved "Claustrophobia Room" Terror Pit, is not your ordinary Pit, scream-filled haunted attraction. The interactive Halloween event creates an atmosphere of pure horror, making any Alfred Hitchcock movie seem tame by comparison. caves and rooms transformed into one of the most intense and terrifying haunted Attractions in South Carolina. Don't Fear the Darkness – Fear the Terror that lies within.
be sure to read the story at the bottom of this page also..
LOCATED AT
645 OLD ANDERSON RD GREENVILLE SC.  Powdersville Area.

Nightmare Dungeon Haunted House in Powdersville SC, is the most terrifying haunted house in the upstate.  Nightmare Dungeon Haunted House is equated with being inside a live horror film.  Each of the haunted attractions is filled with high tech special effects, realistic sets, and professional actors.  Nightmare Dungeon Haunted House will bring your nightmares and fears to life. avoid the infected at all cost in this haunted house.  The N3QX 1 Virus Strain has hit the Powdersville area particularly hard, severe itching, bloody orifices, vomiting, irritability, are the initial symptoms.  Experience the Zombie Apocalypse at Outbreak!  Grotesque and inhumane practices done on patients will repulse anyone who enters the Madhouse.   The Nightmare Dungeon, once a thriving death house for the mentally impaired patient, became a torture and experiment mecca for patients who were placed here.  Submerged in ice water, restrained in padded cells for weeks, shock therapy under water, or Lobotomy were common options or tortures to live people who entered, some never to see the light of day ever again.  Experience the sadistic, gruesome, disgusting, repulsive way the patients were treated once they were sent here.  Closed down after a government investigation, the nightmare dungeon contains the tortured spirits of many patients and surgeons who have been enslaved in the purgatory of the halls, on a mission to escape their terror, or stop it.  Journey the halls of the dungeono and feel the fear and experience the violent, cruel, and brutal treatment they endured.  Nightmares like no other.  Disgusted enough, you are an experiment in Redneck Rampage. Redneck Rampage is described as beyond the bizarre.  Step into the home of a twisted and sadistic grave robbing family.  You have become the experiment.
Nightmare Dungeon Haunted House
645 Old Anderson Rd
Greenville,
SC
29611
US
Phone:
864-905-2289